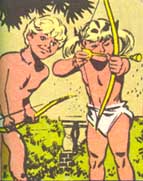 Young Kit and Heloise are the twin children of Diana and Kit Walker. They live in the jungles of Bangalla with their parents in an amazing tree-house called Castle in the Air.
Young Kit after his father's retirement will don the costume of the Ghost who walks and become the 22nd Phantom, continuing the legacy of the Man who cannot die. Both the children are trained by the best archers and hunters in the jungle, and they study in the local school.
The twins love roaming around, wearing only the usual jungle clothing. They hate wearing suits/frocks, which they have to wear when visiting their grandma in the USA.
The twins are the apples of their parents' eyes, who take the greatest care in their upbringing.